UltraFire 3.7v 2600mAh 18650 Li-ion BRC Rechargeable Battery Without Protection
customers are viewing this product

UltraFire 18650 Battery Li-ion Rechargeable Battery 3.7V 18650

1, You will get two battery.
2, Battery Size: 2.63 x 0.73 x 0.73 in | Button Top |Voltage: 3.7V | Chemistry: Li-ion.
3, Low discharge rate | no memory effect | Different from AA or AAA batteries
4, High energy density & Pollution-free.Perfect for LED Flashlight, Headlamp, Digital Camera etc.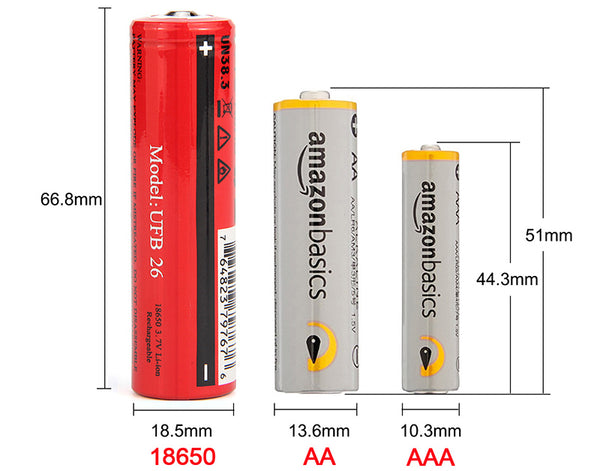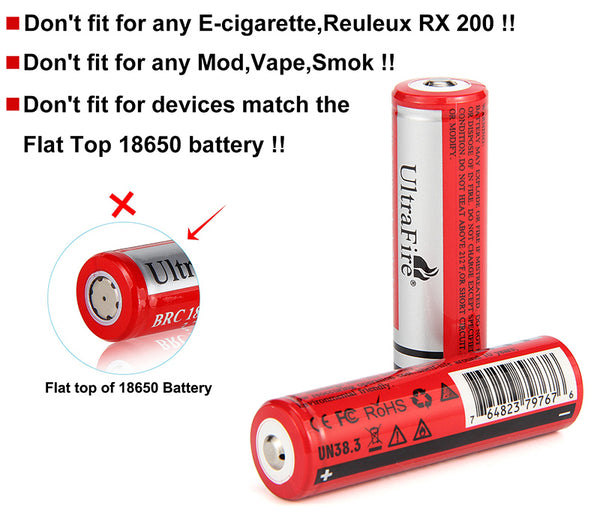 Description:
--In order to protect the battery, we added a clear plastic protective film on the periphery of each battery. Please remove it before using the battery or charging,otherwise the battery will not work.

--Please charge the battery in time, not until the battery is completely drained,otherwise it will reduce the battery life.

--The battery is low self discharge makes itself still maintain 50% of capacity after 3 year of non-use.

--Application: Widely used in your household devices, such as led flashlight, headlamp, digital cameras, toys, remote controls,hand held games, 2-way radios,

Package includes:
2x 3.7V 2600mah Rechargeable Battery

Attention:
1) Please fully charged the battery if long time no used or usage in the first time.
2) Do not heat, dissemble or put the battery into fire.
3) Do not mix use old and new batteries or any different types of batteries.
4) Do not mix use different capacity of batteries.
5) Do not reverse the battery when charging and putting into devices.
6) The batteries can only be charged by Li-ion 18650 rechargeable battery charger.
7) Our battery and charger have the "+" and "-" on the product surface.
8) Please pull out the plug after battery full charged or no battery in the charger.

Total Customer Satisfaction Guarantee:
45 DAYS MONEY BACK WARRANTY

Shipping Times
-Processing time: Order verification, quality check and packaging. -All orders if keep in stock will be sent to the fulfillment center for dispatch within 48 hours after the order is placed. (working day only, and we don't work on weekends or on public holidays).
If not in stock ,it only needs 2-3 working days to produce,and then ship to the fulfillment center.
Orders cannot be amended once it is placed. If the order is not shipped, we will cancel the order, if shipped, customers have to wait for delivery, return the wrong items and get a refund once they are returned to us.
Return Policy
-Our customer service representatives will work with you to find the best solution for your situation by: replacing the original item or providing a refund. 100% Satisfaction Guarantee.
First: we offers returns within 30 days of receipt of delivery. 1) If the item(s) are returned in its original condition and the packaging is in as good as new condition, we offer a full refund of the item(s). 2) If the item(s) are returned in its original condition, but not in their original and undamaged packaging, we charge 20% for per package. 3) All goods returned will be inspected for damage and authenticity upon receipt. We reserve the right to refuse to refund or replace and return the item(s) to you. 4) Items should be returned to our return address as instructed. 5) We issue refund in 2 business day after we receive return.
Second: within 365 days of purchase: Return the product to UltraFire and we will repair or replace it as long as the light is not working because of factory defects. This does not include obvious user wear or extreme damage.